Since I have been in Japan last summer, this country has really a place in my heart. Okonomiyaki, a Japanese noodle-pancake, became one of our favourite dishes.
"Okonomi", meaning "how you like" or "what you like" and
"yaki" stands for "grill".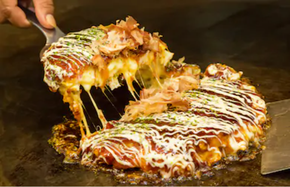 I N G R E D I E N T ' S:
§  70 g             Okonomiyaki flour (prepared with baking soda, salt, etc.)
§  100 ml           water
§  1 tsp.           broth
§  1                    egg
§  1                    spring onion, chopped
§  80g               kale, chopped
§  4                   slices Bacon
§  1 portion       Yakisoba Noodles (egg noodles)
T O P P I N G:
§  1/2                chopped spring onion
§  Otafuku Okonomiyaki-Sauce
§  Kewpie Japanese Mayonnaise
H O W   T O   D O   I T:
1.    Create a batter out of flour, water, broth stock and egg.
2.   When the batter is ready: add kale, spring onion, carrot
3.   Fry the noodles a in a pan with a little Okonomiyaki-Sauce
4.   Add the noodles to the dough and add it all in a newly pan
5.   When ready, put it on a plate and a decor it with spring onion and Japanese-Mayonnaise and Okonomiyaki-Sauce.