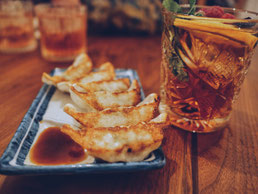 Gyoza, Momos, Dim Sums, Mandus, Wonton and many more.
I love all kind of dumplings; I order them at restaurants and I do them from time to time on my own at home.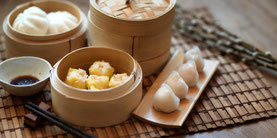 I N G R E D I E N T ' S – B A T T E R:
§  400 g            flour
§  1 tsp.            salt
§  2 dl               hot water
I N G R E D I E N T ' S – F I L L I N G:
§  300 g            minced beef
§  1                    small onion
§  1                    garlic clove
§  4                   carrots
§  1                    chinese kale
§  1                    leek
§  some            ginger
§  salt and pepper
§  sesame oil
§  teriyaki sauce
§  worchester sauce
§  fish sauce
§  sweet and sour sauce
H O W   T O   D O   I T:
1.    Create out of flour, salt and hot water one batter. Let the dough cool down for at least 30 min.
2.   Shred all vegetable parts and precook them in a pan
3.   Add minced beef and season according to the list above or to your own taste. Let the filling cool down as well.
4.   Roll the dough out and cut out 2 mm thin and 12 cm circles.
5.   Spread some water over the dough, this helps to close the dumplings.
6.   Put a teaspoon of filling into the middle of the circle and close them
7.   In this video they show you 10 styles to fold your dumpling
For Simply Steam Style:
- Steam for 10-12 minutes at 100°c
- Sprinkle some sesame oil over the dumplings and serve them hot
For Gyoza Style:
- heat 2 tbsp. of oil in a frying pan
- fry gyoza for 2-3 minutes until the bottoms are brown and crispy
- add 100 cl water to the pan and close the lid
- steam for 4 -5 minutes
- sprinkle some sesame oil over the gyoza and serve them hot