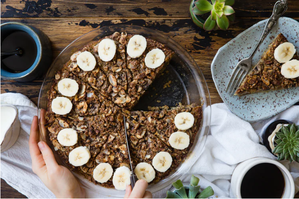 After month of researching, several baking attempts and hours of weighing and mixing ingredients.
I finally created my own B A N A N A   B R E A D   R E C I P E.
I compared over fifteen different recipes, took out the best parts and made this lovely version of my own.
It may not be healthy and it's not vegan but it's very delicious.
This banana bread is more a banana cake actually but banana bread sounds way better.
I N G R E D I E N T ' S:
§  150 g            butter
§  200 g            demerara sugar
§  1 tsp.             vanilla sugar
§  1                    egg
§  3                   bananas
§  200 g            flour
§  1 tsp.             baking soda
§  1 pinch          salt
§  1 pinch          cinnamon
§  130 g            walnuts
§  3 tbsp.          oats
§  1 tsp.             chia seeds
§  1 tbsp.           coconut oil
§  a dash          milk
H O W   T O   D O   I T:
1.    preheat oven to 180°c
2.   prepare cake tin (30 cm) with butter
3.   shred walnuts into small crumbles
4.   mix butter, sugar and vanilla sugar until mixture gets light
5.   add the egg and mix again until you receive a fluffy texture
6.   mash bananas with a fork and add them
7.   mix flour, baking soda, salt and cinnamon and sieve it to the batter
8.   add one after one; 2/3 of the shredded walnuts, chia seeds, oats, coconut oil and some milk
9.   leave the dough sit for 15 – 20 min.
10. add dough to cake tin and sprinkle the rest of the walnuts and some demerara sugar on top
11.   bake for 45 – 60 min.
12. serve the cake when it's still warm inside
If wished, you can cut another banana in half and lay it on top of your cake before baking. I personally think it looks weird, but if you like it go for it.