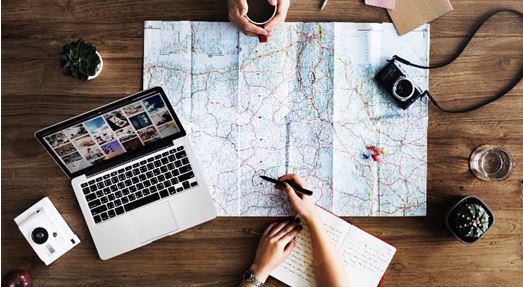 When you go on holidays with your parents you don't have to worry at all. Everything is organised and booked, Mom helps you packing and tells you what to bring and what you can leave at home.
When you're getting older you want to travel on your own and you realize how much work it is to organize and book a holiday.
Of course, there are a lot of spontaneous people, but I like to be prepared and know what expects me and that's why I created myself a check-list for planning holidays.
1.    Destination
By choosing the destination you need to check your needs.
I am a typical list person – create a list of things you would like to do.
I figure out how long I would like to go, do I want to have more relaxing or more adventurous holidays...
After creating a list figure out what are the 3 most essential things.
The pages below give me a lot of inspirations:
Lonley Planet : Website
Nomadic Mat: Website
Gypsea Lust: Website
LetsTravelSomewhere: Website
I love Ponys Mag: Website
Condé Nast: Website
2.    Budget
Create a budget – this is important to have an overview on your costs and it shows you if you can even afford those holidays. For having some average prices, I do mostly research on Google, in travel blogs and also in catalogues - to get a feeling of how expensive a country is.
The blog of the savvy backpacker had helped me a lot -  Website
3.    Flights
Check the flights on different pages, if you are flying on weekdays or take return flights on a Monday instead of a Sunday, this can often make your flight prices way cheaper. Also check if there are morning flights it's the worst to get up early but if you arrive around 10 am you have a full day at your destination. Consider connecting flights, those are mostly cheaper than the direct flights.
Momondo: Website
Skyscanner: Website
4.    Accommodation
I am a person who likes to know where I can sleep. Means I like to book things in advance. Of course, depending on situation and countries this may change. I think this will I learn if I go on a backpacker trip: maybe South America, New Zealand or Asia. 
Below some pages where I already booked some accommodations:
Booking.com: Website
Hostels.com: Website
Air BnB: Website
5.    Transport
Check the possibilities about public transport, Uber, etc.
How to get from A to B to C. This is something you do not need to book in advance (except maybe trains or domestic flights). But it's good to be informed how the country is moving. Depending on the country check the possibility of renting a car (if you are old enough).
Take a look at Rome2Rio this webpage shows you alternative ways of travelling.
Rome2Rio: Website 
6.    Security & Documents
Something I do before I book my travel check the country on the webpage of the office for foreign affairs.
There you receive useful information about the current (political) situation in the country. It advises you if you need a visa and which specific personal document you need to bring to your travel, to have no problems with entering your destination.
EDA: Website
7.   Health & Safety
Always check on pages like the one below if you need do to additional vaccination or what you need to take care of. Double check you health insurance and write down important numbers. Also inform yourself about the city and the country, about their culture, habits, rules, etc. you're the foreign person in their country so be polite and take care of the culture.
Save Travel: Website
At the End of this - I wish you all a save Travel - xx